CEO's Message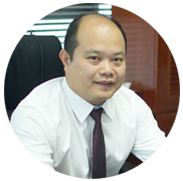 Dear valued customers,
We, at HICON are doing our utmost to become an integrated part of Vietnam's success in economic and social development through construction and investment activities.
With the human-centered policy in parallel with professional management system, we are striving to provide the best products and services at competitive price.
To archive this goal, we have continuously been pursuing the innovative as well as creative thinking which then is urgently turned into actions. This helps maximize collective strength along with highlighted individual responsibilities.
The satisfaction from our customers, partners and colleagues is always the best value scale we have achieved in business and will motivates our further development. 
We look forward to receiving your trust and cooperation in order that HICON will continue growing and repay that trust.      
Sincerely yours!
ON BEHALF OF HICON                  

Mr. Nguyen Duc Toan                 
Vision & Mission
HICON Members
CÔNG TY CỔ PHẦN ĐẦU TƯ HICON
Address: Tầng 6A, tòa nhà 169 Nguyễn Ngọc Vũ, phường Trung Hòa, quận Cầu Giấy, TP. Hà Nội, Việt Nam
Tel: (+84) 24 3762 1663
CÔNG TY CỔ PHẦN DỊCH VỤ HICON
Address: Tầng 16b, Tòa A Big Tower 18 Phạm Hùng, phường Mỹ Đình 2, Quận Nam Từ Liêm, TP.Hà Nội, Việt Nam.
Tel: (+84) 24 32 626 626
CÔNG TY CỔ PHẦN JOY PLUS
Address: Lô 22C khu biệt thự A10, đường Nguyễn Chánh, phường Trung Yên, quận Cầu Giấy, TP.Hà Nội, VN
Tel: (+84) 24 2322 6565
CÔNG TY CỔ PHẦN HICON GLOBAL
Address: Số 60 đường 15, khu nhà ở Vạn Phúc 1, khu phố 5, phường Hiệp Bình Phước, Quận Thủ Đức, TP. Hồ Chí Minh, Việt Nam
Tel: (+84) 28 3620 9634
Core Values
HICON Commitments
    Organization Chart
Key Persons
Management System
Financial Capacity
Besides equity, HICON is also supported by financial institutions, large banks with annual credit limit up to nearly 1000 billion Vietnam dong. This is one of the bases for HICON to successfully implement projects for clients.
Equipment Capacity
HICON has own the system of synchronous and up-to-date construction machines.
Social Responsibility
From the establishment of Hicon Company, we always aware that Social Responsibility is commitment of the company to comply business ethics, contribute to sustainable development of national economy, improve the quality of life for local employees in particular and enhance standard of living in general. Therefore, Social Responsibility is always indispensable part of Hicon strategy and is vital for sustainable growth of our company and society.
Hicon has organized and will organizing charity events, free home repairs for employees who are disadvantaged with an effort to continuously boost the quality of life for our employees and for society.